There are plenty of awards to give out in the NBA. All defensive team, most improved player, MVP, all rookie team, and so on and so forth. However, there is one thing that the NBA doesn't award and that's the nastiness in which a man plays the game. For some guys play the game with a certain ferocity that you just can't teach. It's a hunger or an edge that comes from within that makes them some of the best in the game. This is a trait that I feel deserves recognition. It's for that reason that we here at Palace of Pistons created the NBA All Attitude team. Myself and Aaron Johnson will each build a team. I will go first.
PG – Russell Westbrook
If I had to use one word to describe the way Westbrook plays the game, that word would be angry. He attacks the rim as if had personally wronged him. Often times this results in a huge dunk that gets fans out of their seats. He is equally aggressive as a defender. His willingness to get into a ball handlers faces is a big part of why he finished in the top five in steals per game last season. This combination of attacking on offense and defense are a big part of why Westbrook is one of the best in the game. That anger is something that drives, turning passion into huge production.
SG -Dwayne Wade
Sure Wade will be turning 35 this season, and he's been battling injuries for years, and he couldn't make a jump shot if his life depended on it, but none of those things stopped him from averaging 19.0 points per game last season. So what keeps this broken down old man near the top in terms of NBA shooting guards? Two words, "warrior mentality". Wade takes it upon himself, regardless of age or health, to drive the ball to the hoop and finish among the biggest and strongest guys in the game. He plays with a reckless abandonment that most NBA are too soft to even think about adapting to their game. Wade is a future Hall of Famer that brings something that you just cant teach and that's heart.
SF – Kawhi Leonard
Kawhi Leonard comes off as a very nice guy. He's a soft-spoken kid who still drives a beat up old car and probably helps old ladies cross the street in his free time. But once he steps on to the court he's a freaking animal. One of the best defenders in the NBA, Leonard never gives his man a second to breath. He's max effort all the time on both ends of the court. And if you're someone who mistakes Leonard's apparent kindness off the court for weakness, well you couldn't be more wrong. This kid won't back down from anybody and he's tough enough to make even the best in the game think twice about trying to make a move. Nice or not, Leonard will beat you down with the way he goes about his game.
PF – Draymond Green
We all remember the sideshow that was Draymond Green in the playoffs. However, when he wasn't kicking guys in the junk he was showing why he was one of the best power forwards in the game. Keep in mind, while a lot of the dirty plays were very stupid, they all came from a burning desire to win. It's that same desire that makes a 6'7 Green one of the best rebounders and defenders in the game. It's hard to imagine a guy who is 6'7, the same size that Rip Hamilton was, can be a dominating power forward and center, but that's what Green is. He plays with a pit-bull mentality where he would happily break someone's nose to grab a loose ball. He is truly the embodiment of the old saying, "it's not about the size of the dog in the fight, but rather the size of the fight in the dog".
C – Hassan Whiteside
Whiteside is a self-made man who did not have an easy path to the NBA. He seemed to of come out of no where and earned a reputation as a gritty rebounder and defender. Even among the big guys, Whiteside is not someone you want to go against in the paint. He plays as physical, if not more so, than any center in the league. It's that physicality and aggression that he plays with that has taken him from a second round pick to one of the most feared big men in the game. He's defiantly not the most talented guy out there, but the way he plays the game makes him one of the best.
Your turn Aaron.
That's a solid team J.T. In fact, that team could be just as good as the Golden State Warriors this upcoming season. I'm not sure I can top it, but I sure as hell will try. Here it goes.
PG – Kyle Lowry
Kyle Lowry is a hound. As seen playing for Team USA in the Olympics, Lowry is a pitbull on defense. He doesn't give his opponent any space to operate. He can score the ball in numerous ways whether he is shooting from the outside or fighting his way to the basket. He is a scrappy player all around and a full-blown leader. While Russell Westbrook was the obvious and right choice, Kyle Lowry is a good pick. I mean, did you see him pressing teams while up twenty or more points in the Olympics, that's playing with passion.
SG – Tony Allen 
Tony Allen wants you to know that he is "First Team All-Defense." Hint I'm all in on defense here. I want my team to beat you on the defensive end. Allen is going to make that very possible. With Lowry and Allen I have a dominant defensive backcourt. A regular on the NBA All-Defensive Teams, Allen is going to make it hard for Wade to score the ball, and he is going to let him know about it. He averaged 1.7 steals per game last year. Did I mention, "First Team All Defense."
SF – LeBron James
The great equalizer. I lost some offense by taking Allen, but LeBron James makes that pick much better. LeBron shows so much passion and he doesn't make it very noticeable at times. Remember what he did to the Pistons.
I don't really want to get into that but, yeah. He is arguably one of the best players of all time and you must have passion to be that good.
PF – Serge Ibaka
Much like at point guard, I was not going to beat you at power forward. Draymond Green is the number one guy for this discussion. I debated between a few guys including Zach Randolph and Taj Gibson, but I went with Ibaka because he is a better player than both and shows just as much passion on the court. Ibaka does it all when it comes to defense. He is an elite rim protector at 6'10 and is a very good post defender. He stays in front of his man and can move his feet enough to defend on the outside when necessary. He is a good rebounder, and on offense he has become more versatile each year. He has expanded his range over his career to become a respectable three-point shooter, and his mid-range game is elite for power forwards. He shot 45.3% from 16ft to inside the three-point line last year, that is pretty solid.
C – Andre Drummond
Lol, just kidding.
C – DeMarcus Cousins
 Can I just use a gif for this answer?
DeMarcus Cousins is a jerk on the court.
And a beast.
He is one of, if not the best center in the NBA. He averaged 27 points and 11.5 rebounds per game last season. He also averaged 1.6 steals and 1.4 blocks per game.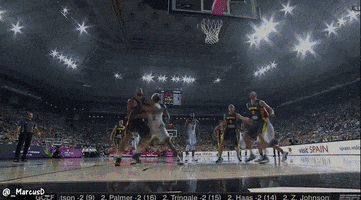 Featured image via: Mark D. Smith, USA TODAY Sports