During a training session inside the Mendenhall Center on the campus of UNLV on July 18, Detroit Pistons assistant coach Sean Sweeney gently swayed, fists clenched in his pockets, while he watched earnestly from half court as Andre Drummond let 3-pointer after 3-pointer sail from the wing. As each attempt found nylon, Sweeney seemed to nod his head using his whole body, bouncing to and fro with a sense of affirmation. In addition to the seven (consecutive) high-arcing attempts he sank from the wing, Drummond displayed a visibly improved shooters touch from the corner, going eight for ten overall. Admittedly, it is canon to take NBA summer workout highlights with a grain – if not entire block – of salt. Pistons fans are all too familiar with this rule, especially when pertaining to Andre Drummond and shooting from behind the long line.
However, there is evidence (a more slender frame, cleaner release, tighter motion, consistent mechanics, un-doctored footage) that suggests this may carry over into the regular season, which would likely curate a playoff appearance for Detroit to showcase Drummond's improvements. Further proof of this revelation can be found in his relationship with Sweeney, the Milwaukee Bucks coaching transplant who has long been credited with playing a key role in the development of Giannis Antetokuonmpo, who has sung his praises. Lately, Drummond has been harmonizing.
The 2019 free agency cycle saw Al Horford, 31, and Nikola Vučević, 28, receive contracts with an average annual value (AAV) of at least $25 million. Drummond, 26 on Saturday, is set to make $27,093,018 in 2019-20 and has a player option for 2020-21 which would see him make $28,751,774 that year. In giving his thoughts on the Vučević contract, Drummond offered some insight as to how handsome he feels his paycheck should look in the near future. Following the recent contract extensions signed by Kristaps Porzingis (Mavericks) and Draymond Green (Warriors), the 2020 Unrestricted Free Agent class is nearly as thin as Tayshaun Prince on the Atkins diet – a 34 year-old Kyle Lowry will be the main attraction next summer. Knowing this, it's likely that Drummond can see the writing on the wall; should he decline his player option, he will be a very big – and young – fish in a very, very small pond come July 1, 2020.
Having withdrawn from Team USA's roster for the FIBA World Cup in order to focus on the upcoming season, Drummond is clearly prioritizing his on-court performance for Detroit in 2019-20 above all else. If the growth he has previewed this offseason manifests in Little Caesars Arena come late October, it will be all but assured that Drummond declines his player option. If and when Drummond declines his option, Ed Stefanski and the Pistons front office will be tasked with remedying the situation.
After some consideration, I present three forms of recourse the Detroit Pistons can take in response to Andre Drummond declining his player option for 2020-21:
*tenured (tired) Pistons fans, I am kindly asking that you exercise a few moments of patience as you continue reading the first option.
Offer Drummond a Max Contract
In this hypothetical, Drummond has probably declined his player option due to having increased his level of play. If Drummond can show true growth from the perimeter and become a marginally effective floor spacer while expanding on his defensive prowess and raising his profile as a defender from 'disruptive' to 'dominant', he is probably worth the max.
As a result of finishing his seventh season, Drummond became eligible for the 5/30% max contract. Under the rules of the 2017 Collective Bargaining Agreement, players who have played in the league for 7-9 seasons as a member of the team who drafted them are eligible for a five-year contract worth 30% of the annual salary cap. Therefore, the Pistons currently could offer Drummond a five-year, $203.6m contract ($40.7m AAV).
However, should Drummond make an All-NBA team this year, he would become eligible for a five-year supermax offer from Detroit, which represents 35% of the salary cap per season (plus an 8% annual raise for staying with his current team). If Drummond were to earn All-NBA honors, Detroit could offer him a five-year, $237.5m contract ($47.5 AAV). The most any other team would be able to offer him is a four-year, $150.9m contract ($37.7m AAV).
Conceivably, if Drummond is playing at a level that is deserving of a max contract, the Pistons should offer him one. He may not agree to it initially, if only to wait the season out in hopes of making an All-NBA team to become supermax-eligible. It should go without saying that if Drummond does qualify for the supermax, the Pistons would be wise to retain him, as he would only be 26, coming off a season of league-observed improvement and career-best productivity.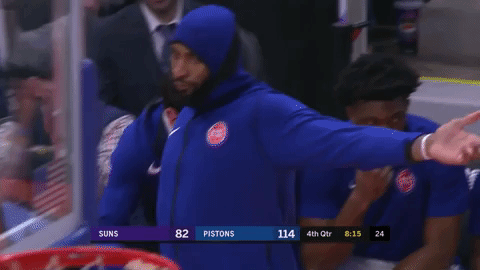 Trade Drummond
If Drummond declines his player option and Detroit finds itself yet again hanging out in the crawlspace and basement of the Eastern Conference, it would be sagacious of Ed Stefanski to pick up the phone and start ringing other organizations who may be one missing piece away from Finals contention.
If the trade deadline approaches and Golden State gets Klay Thompson back (and he contributes) as early as some have romanticized, it is not egregious to consider that the Warriors may decide to sign over the lease on D'Angelo Russell to Detroit for Drummond's services protecting the paint, creating an orbit on the glass, and perhaps, by that point, even spacing the floor.
If not Golden State, another team that might feel it is one piece away come February is Boston. Should Kemba Walker have them in position to threaten Milwaukee and Philadelphia, it is viable to think the Celtics would entertain including a package involving some combination of Jaylen Brown, Enes Kanter, Semi Ojeleye and a couple picks for Drummond.
These are not predictions. These are hypotheticals. I am not suggesting that either of these trade outcomes have any likelihood of coming into the fold. I am simply suggesting that often, trades are born from circumstance. Sometimes you can see a trade coming from across the Bayou, and other times it's a Hollywood Shocker. That being said, it is entirely within the sphere of chance that a trade for Drummond could be in the near-future, and who is to say it won't be a transaction that anyone would consider too seriously at this juncture.
Let Drummond Walk
One final option that Detroit could deem plan-of-action is to simply let the season play out and allow Drummond to walk. Doing this would clear up cap space, gifting Stefanski the opportunity to demonstrate his steady hand in free agency. Another offseason comprised of savvy moves by the front office could land the Pistons in a position to make a splash down the road.
In this scenario, Detroit would have only Blake Griffin, Luke Kennard, and Sekou Doumbouya on the books by July of 2021, granting them full autonomy to take a swing at any one (or possibly two) of the A-list names that comprise the breathtaking 2021 Free Agent class.
BONUS: Andre turns 26 on Saturday. If you would like to wish him a Happy Birthday, please donate to his birthday fundraiser for the Special Olympics!
(Featured image by Raj Mehta/USA Today Sports)