The Detroit Pistons signed Joe Johnson to a partially guaranteed one-year deal on Thursday afternoon, according to Chris Haynes of Yahoo! Sports. Detroit parted ways with forward Michael Beasley to create room on the 15-man roster.
How will signing ISO Joe Johnson impact the Pistons?
Who is Joe Johnson?
After being selected with the 10th overall pick in the 2001 NBA Draft, 38-year-old Joe Johnson has coolly constructed a 17-year NBA career, earning seven NBA All-Star selections. Johnson has spent time with the Boston Celtics, Phoenix Suns, Atlanta Hawks, Brooklyn Nets, Miami Heat, Utah Jazz, and most recently the Houston Rockets in 2018. During his career, Johnson has amassed over 20,000 points while earning a reputation as one of the most clutch players in NBA history. For a time, Johnson was represented by agent Arn Tellem, the current Pistons Chairman.
Following the 2018 season, Johnson did not receive a contract offer from any NBA teams. After mulling his options, Johnson eventually decided on competing in rapper Ice Cube's blossoming Big3 League. His decision panned out well as Johnson led his team to the league championship and collected league MVP honors. Along the way, he hit some viral game-winners that fans have come to associate with 'ISO Joe' over the years. During the season (admittedly a paltry eight games), Johnson set a league record for scoring (175 points) while shooting 48.5% from the field and 39% from 3-point range. Johnson also led the league in assists and was in the top three for both rebounds and steals. As a result, several NBA teams reached out to Johnson with interest in a potential signing for the upcoming 2019-20 season. After working out with Brooklyn, Milwaukee, and Detroit, Johnson inked a one-year, partially guaranteed deal with the Pistons.
How can Johnson be expected to fit with the Pistons?
When Joe Johnson began his career in 2001, he was playing in an entirely different iteration of the NBA. It hardly resembled the fast-paced, small-ball, 3-point parades that fans soak up in 2019. Standing at 6'7" and 240 lbs, Johnson played the first decade-plus of his career as a shooting guard. However, with the rapid evolution of the NBA and the astronomical affinity for the 3-point shot (and thus floor spacing) in recent years, Johnson's natural fit on the court has shifted to small forward.
At 38, with little more than fumes left in the tank, Johnson will likely be spending the lion's share of his minutes on the wing with Dwane Casey's second unit. Johnson will foreseeably be relied on for spacing the floor and sinking the wide-open looks that Casey's offense is predicated upon (and missed so many of last season).
Currently, Tony Snell is penciled in as the Pistons starting small forward. Coming off the bench, Detroit will be trotting out Svi Mykhailiuk and Sekou Doumbouya.
At 22, Mykhailiuk has a pure stroke from 3-point range and showed promise in Summer League with handling the ball and becoming an offensive facilitator, but lacks length and is entirely unproven.
Doumbouya, who turns 19 on December 23, is currently the youngest player in the NBA. Although he possesses sky-high potential, Sekou is still very wet behind the ears. It is unlikely that he will be leaned on for many, if any, meaningful minutes this season as he becomes acclimated with the size and speed of the NBA. 
Realistically, fans should probably expect to see Johnson provide ~15-20 minutes a night at small forward on a load-managed schedule. A possibility also exists where Johnson could see some floor time as a power forward in certain small-ball lineups, which Dwane Casey has employed in the past. His proven prowess in the clutch lends weight to the idea that he may sometimes be utilized in late-game situations.
If Detroit can get 60 games out of Johnson and he is still healthy in April, the organization will have gotten more than it could have wished for. The perceived hope from the front office is that Johnson's veteran presence will be able to offer some consistency and stability that the bench lacked last season.
Battle for the final roster spot
There was already a battle brewing between Michael Beasley and Christian Wood for the 15th and final roster spot before Detroit showed interest in Joe Johnson. Both Beasley and Wood agreed to a non-guaranteed deal with Detroit this offseason, and have spent the summer in the gym preparing for a training camp battle. Unfortunately, the Pistons had to split with a player to sign Johnson; Beasley got the ax. Although he never signed a contract, so he wasn't waived.
It's within the realm of reason to think that GM Ed Stefanski and the Pistons brass saw Johnson as a better and more trustworthy presence to insert in the locker room. Beasley has a history of causing turbulence within organizations (most recently last year in Los Angeles) and is currently suspended five games by the NBA for violating the league's drug policy. Even if Beasley were deserving of the roster spot, he wouldn't be able to contribute until November 1 when Detroit travels to Chicago. Following the seismic shift in the NBA's power balance during this offseason, Detroit cannot afford to spot itself any games during the 2019-20 campaign.
Now that Beasley is out of the picture, the battle for the final roster spot appears to be pitted between Joe Johnson and Christian Wood. Wood, a 23-year-old power forward who stands at 6'10" with a 7'4" wingspan, has yet to find a footing in the league, appearing in 51 career games with four different franchises. Last season, after being waived by Milwaukee, Wood was picked up by New Orleans and appeared in 8 games, averaging 16.9 points, 7.9 rebounds, and 1.3 blocks in 23.6 minutes per contest. New Orleans had neither reasons nor intentions to part ways with Wood, but then they made a trade and drafted a few guys which forced their hand. Noticing Wood's potential, Detroit pounced and signed him to a training camp offer, with the intention of Wood providing potential relief as the backup center due to his length. Facing new competition, it appears he is going to be working with even more motivation to earn a spot on the bench in Indianapolis on October 23.
There are other routes the Pistons could take which would allot a roster spot to both Johnson and Wood. Wood could prove to be invaluable as a backup big, and the front office may want to keep Johnson's presence in the locker room for mentoring the youth. In that instance, they could decide to cut bait with Khyri Thomas or Svi Mykhailiuk to keep both Johnson and Wood. Doing this would also create some breathing room in Detroit's backloaded shooting guard rotation.
If those routes don't present themselves, Pistons fans should keep a keen eye on the organization's handling of Langston Galloway. There have long been whispered rumblings of a trade involving Galloway, and adding Joe Johnson only creates more logic to pursue a deal. Galloway's contract expires after the year, so it wouldn't be shocking to see him unloaded for picks or other minor compensation. When squinting, it seems that there may be some smudgy writing on the wall indicating Galloway could be on the way out soon.
Possible Risks
It was mentioned a couple of times, but to be sure that it doesn't fall on deaf eyes: Joe Johnson is 38 years old. Thirty. Eight.
Once basketball players cross into their mid-30s, they begin to lose their athleticism, elasticity, stamina, and almost every other trait which characterizes an elite basketball player. Joe Johnson represents an injury flight risk to Detroit simply for his age, and that would remain the case even if he had a sterling medical record.
Johnson last played in an NBA game in 2018 after splitting the season between Utah and Houston. During his final season, the career 37.1% 3-point shooter posted a sorrowful 27.6% from deep over 55 games.
It's a "what have you done for me lately?" world, and Johnson hasn't played an NBA game in a year and a half. Furthermore, he shot ten percentage points off of his career average in his most recent season. That is not a very encouraging statistic.
Possible Benefits
Joe Johnson has made a $200 million-career by playing his role, staying cool, calm, and collected, and making baskets both consistently and in the clutch. Detroit probably won't even need much of his clutch gene, but they definitely will need Johnson to provide a smooth stroke from outside, be a calming presence on the court, and a mentoring veteran voice in the locker room. If Johnson can do those things and stay healthy, Detroit may have scored another one of the better bargain signings this NBA offseason.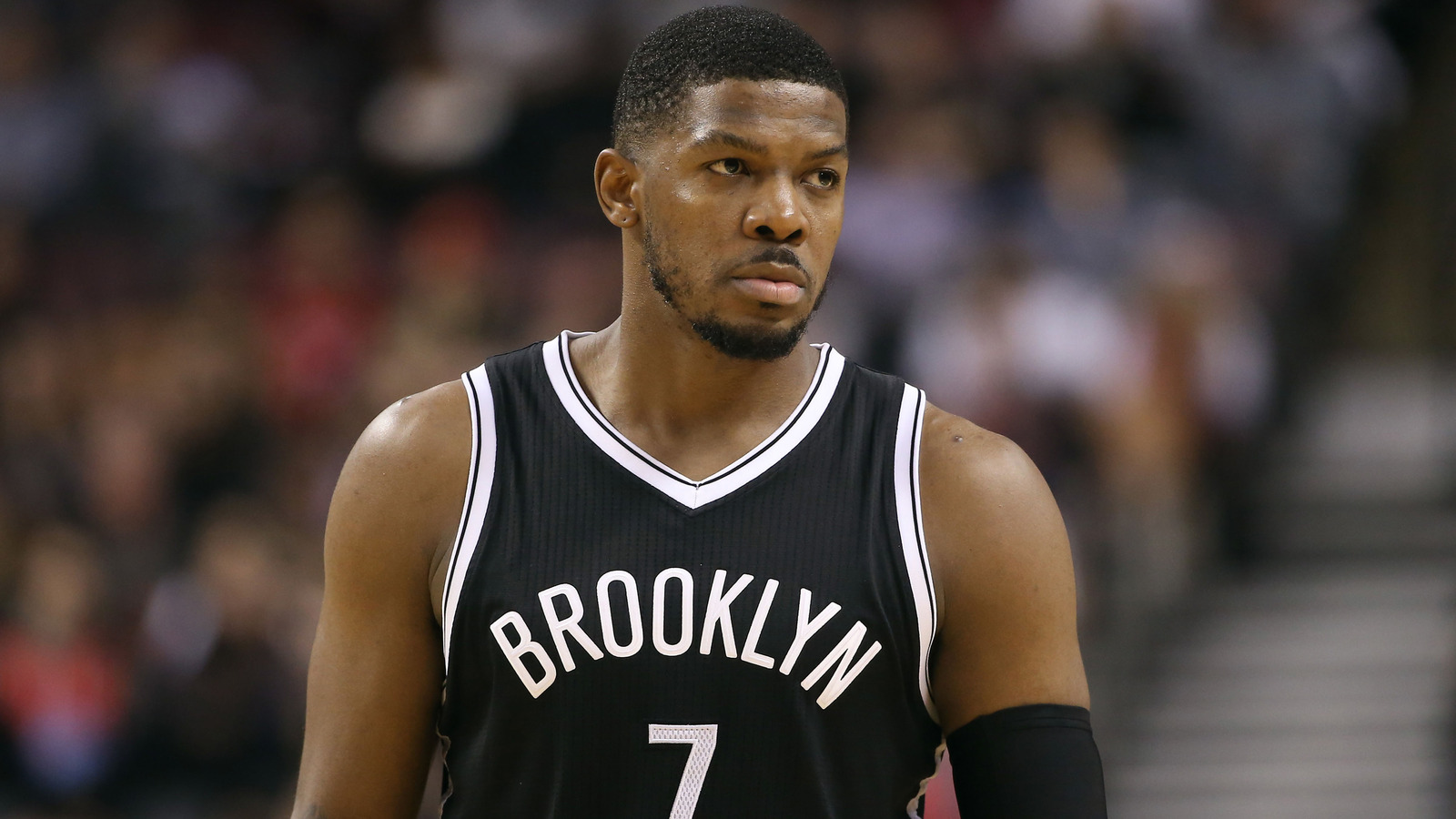 Featured Image: John Minchillo / Associated Press