The Pistons and meme culture have coincided on many occasions.
Stan Van Gundy made meme history when the Fox Sports Detroit camera crew caught him swearing at his players (not in a malicious way, simply to form the wall that would restrain the Spurs from an improbable win).
Andre Drummond (remember him?) had an incident where he was temporarily on the injury report because of an avocado.
Former Pistons general manager Joe Dumars became a meme himself when he traded Chauncey Billups and Antonio McDyess for a washed-up Allen Iverson, then again when he spent all of Iverson's cap space on Ben Gordon and Charlie Villanueva, then again when he signed Josh Smith (who was waived and stretched by Stan Van Gundy, who has received $5.4 million from the Pistons every year since 2015).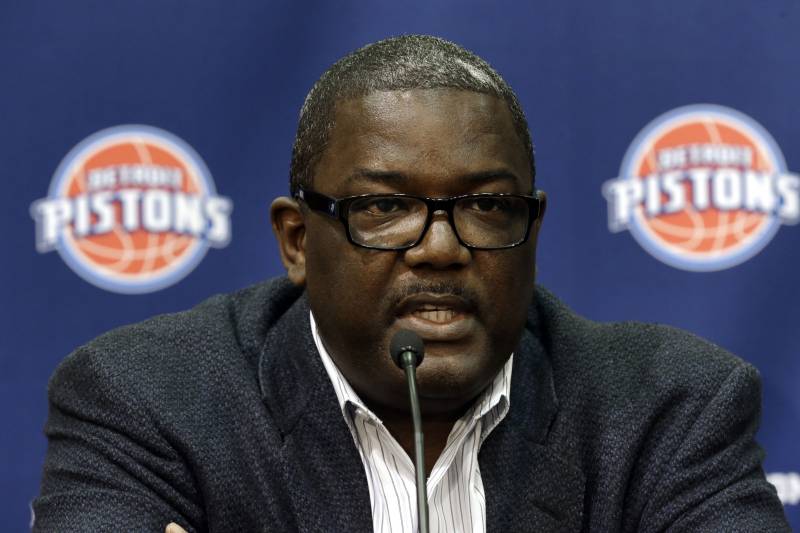 In 2014, Dumars was voted the worst GM in the NBA by a panel of over 200 people. Six years prior, his Pistons were in their sixth consecutive Eastern Conference Finals. Twelve days later, he stepped down from his front office duties in Detroit.
Dumars lives on through the minds of Pistons fans. It was his combo-guard skills and defense that played a part in Detroit's back-to-back championships in 1989 and 1990. He was named NBA Executive of the Year in 2003 and built the 2004 championship team.
As important as he was to Detroit's success, Dumars is remembered for being a bad GM, kickstarting the Pistons decade-long stretch of mediocrity. The Billups-Iverson swap was the pitfall that has left Detroit without a playoff win since 2008.
The legend of Joe Dumars can only be completed by this image, which is a meme that has all but signified how he will be remembered as an NBA executive:
To me, this image acts as a puzzle. I need to know what is going on. What circumstances would cause one man to be on two phone calls at one time?
Why did Joe Dumars have two phones?
In this picture, Dumars seems to be in his office. That computer, doesn't it seem really old? I'm typing this piece on a MacBook Pro. There's no way this picture was taken in the last 12 years.
People also don't use corded phones like that, so he must be at his office. That's a flip phone in his other hand, most certainly not an Apple Watch on his wrist. The shirt seems timeless enough, though.
Okay. I've gathered the setting is sometime in the early 2000s, which is when Detroit was a championship contender yearly. But where is he? He could easily be in his home office. Why would someone take a picture of him at home? What is stressful enough to make you be on the phone with two people at once?
Dumars is not ordering pizza for his wife, Debbie, who likes Little Caesars, and his son, Jordan, who is more of a Hungry Howies guy. This is some sort of work environment. (note: I'm actually not sure of which pizza chain the Dumars family prefers)
Let's get ourselves closer. A Google image search shows that this picture was taken by Allen Einstein of Getty Images, in the Pistons war room during the 2003 draft:
Oh no! This could be the phone call in which Dumars agrees on taking Darko Miličić over Carmelo Anthony, Dwyane Wade, and Chris Bosh!
Sidebar: Darko won a ring before anyone else in the 2003 draft class, and the Pistons would not have traded for Rasheed Wallace if they drafted Melo or Bosh, and therefore probably wouldn't have won the 2004 championship with no guarantee they would win in future years. By the property of time value, it's better to have a championship trophy in hand than a promise for a championship in the future.
Still, the Darko selection lives on as one of the biggest draft busts in NBA history, and there might be a picture of Joe Dumars making this mistake!
Another picture from this day shows Larry Brown and the Pistons' front office brass during the draft room. Over in the corner is Dumars, who is STILL on both phones!
I don't know much about how the NBA Draft war room experience goes. But I have to assume that there are more people in the room at the beginning of the draft, leading up to the first selection from the team and then some people leave, and it's only the GM, coach, and the most knowledgeable people for the second-round picks.
In this photo, it appears Bill and Karen Davidson are present for this moment. Ownership would be present only for the most important things that the franchise does, and selecting the highly regarded Miličić would be something to show up for.
Without speaking to anyone in the room, which I tried to do (I reached out to Allen Einstein, the photographer, but I did not receive a response), I think I've come up with the answer to the puzzle:
Joe Dumars was on the phone with the league office through his desktop corded phone in his right hand, about to tell the league that they were to select Darko Miličić with the second pick in the draft. With his left hand, he's on his personal cell, talking to one of two people:
Darko himself, asking him if he'd like to play for Detroit, or Marc Cornstein, Darko's agent, making sure that everything is clear for Darko to be selected by the Pistons.
We know how the story ends: the three subsequent selections go on to have outstanding careers, and the Pistons still get their ring in 2004 with Darko only scoring one point in the playoffs.